The private healthcare sector in low-income settings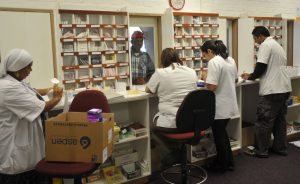 In our research on the private sector, we aim to enhance understanding of the operation of private providers, to evaluate interventions and policies to improve this, and consider the place of private provision in the evolution of the broader health system. We also strive to enhance methods for studying the private sector, and in particular for assessing their quality of care.
Informal and unlicensed providers are an important source of care for the rural poor in India. Social, behavioural and economic drivers of inappropriate antibiotic use by informal private healthcare providers in rural India, led by Meenakshi Gautham and colleagues in collaboration with the Liver Foundation in West Bengal, explores the role of this important group of providers, seeking to understand how and why they use antibiotics and what interventions would be most effective in rationalising their antibiotic use.
The School's Maternal healthcare markets evaluation team (MET) led by Catherine Goodman and Caroline Lynch, is seeking to understand the role of the private sector in providing reproductive and maternal healthcare as part of its evaluation of the Merck for Mothers initiative. Projects being evaluated include social franchising for maternal health in India and Uganda and privately operated supply chains for family planning in Senegal. The team is also investigating in which sector women seek care worldwide through multi-country analyses of Demographic and Health Surveys, and examining the nature of competition between private providers.
Evaluating quality improvement strategies. In collaboration with the implementing NGO, PharmAccess International, Catherine Goodman and Timothy Powell-Jackson are conducting a randomised controlled trial of the SafeCare model for facility quality improvement in private facilities in Tanzania, and secondary analysis of historical data and qualitative research in Tanzania and Kenya, they are assessing the impact of the programme on technical and perceived quality, while using qualitative methods to understand the experiences of participating facilities, and the effect of the programme on the broader market and policy environment.
Understanding markets for malaria diagnosis and treatment. Drawing from our history of studying markets for antimalarials, Catherine Goodman, Benjamin Palafox, Kara Hanson and Shunmay Yeung are working to estimate of the price elasticity of demand for first line antimalarials, assess the equity impact of the Affordable Medicines Facility-malaria (AMFm) antimalarial subsidy programme, and analyse the cost-effectiveness of introducing rapid diagnostic tests for malaria into retail drug shops.